FREQUENTLY ASKED QUESTIONS
FREQUENTLY ASKED QUESTIONS
MoveClean is a total vehicle hygiene company focused exclusively on the auto industry. Born out of a collaboration between two of the industry's most trusted names, MoveClean is focused on addressing the rising customer concerns around the cleanliness and safety of their vehicles – a part of the vehicle ownership that has historically been neglected.
How is MoveClean different from the products already on the market?
While there are several solutions on the market for treating vehicle disinfection, very few were built with the automotive industry in mind. MoveClean offers multiple solutions focused on navigating the changing needs in vehicle hygiene in a sustainable business model for today and in the future.
Where are MoveClean solutions available today?
MoveClean is delivered through service providers to end consumers. Since MoveClean doesn't have service centers of their own, customers looking to get a service can find a participating service center.
How does MoveClean decide who to engage as partners and how many partners are currently involved?
We're dedicated to partnering with trusted brands in the automotive space that have a similar understanding of the changing needs in vehicle hygiene today but also how it will be impacted by new mobility business models. MoveClean has multiple national and multi-national partners in advanced discussions to join the effort over the coming months.
Why did Shell Lubricants and Turtle Wax choose to team up together to launch MoveClean?
As two innovative brands within the automotive industry, both Shell Lubricants and Turtle Wax are aware of and wanted to be part of the solution to solving the increasing issue of vehicle hygiene and the consumer demand for it from service providers.
I'm a service provider, how can I partner with MoveClean?
MoveClean is interested in expanding our partner network and you can reach us at info@moveclean.co or reach out to us on our Contact Us page.
Why is Total Vehicle Hygiene important for a vehicle?
Vehicles historically have been neglected when it comes to cleaning. In a CarRental's study, vehicle interiors had roughly 700 strains of bacteria living in the average vehicle which is 4x dirtier than a public toilet. 32% of people clean their vehicles only once a year, and as a result germ counts in vehicles are very high. When looking at frequently shared vehicles some vehicles, especially ride share, could have roughly 35,000x more germs than a toilet seat.
What is Turtle Wax Defend-X?
Defend-X® is a proprietary disinfecting solution that features Byotrol® Technology and is an EPA-registered surface sanitizer that kills over 99.9% of germs, including cold and flu viruses, 2009-H1N1 Influenza A virus, Respiratory Syncytial virus, Coronavirus, Rotavirus and Norovirus. When used as intended, it keeps surfaces sanitized for a full 24 hours with only one application. Defend-X is categorized in the lowest toxicity level (Level IV). Defend-X cleans worry-free, meaning it is non-staining and non-corrosive; there are no harsh chemicals and it does not contain bleach or alcohol.
What differentiates Defend-X from other disinfectants?
These are our recommendations to consider when putting a cleaning regimen in place for your vehicle:

 
Included on EPA List-N: Many customers are looking for chemistries to, at a minimum, be EPA List-N. All products on this list meet EPA's criteria for use against COVID-19.
 
Reapplication: Most disinfectants kill bacteria but do not provide consistent protection. A few solutions on EPA List-N have the ability to maintain a sanitized surface for 24 hours, even after multiple touches. This is critical because as passengers get in and out of vehicles, you don't need to reapply multiple times throughout the day. Although there are some supplemental residual antimicrobial products that extend beyond 24 hours, it's important to note these don't meet the EPA's standard for disinfection efficacy.
 
Impact to interior: Many solutions are designed for a particular environment and their impact to vehicles is not tested. When looking at different interiors such as leather, carpet and other common interiors for vehicles, it's important that the solution won't cause damage (brittleness, fading, etc.).
How does Defend-X differ from any other EPA List N disinfectants?
List-N currently includes 525 solutions, which provides a lot of optionality, but not all solutions are the same. In shared transportation there are important considerations to keep in mind when picking the best solution for your business:
 

1. Dwell Time: The dwell time is the amount of time the treated surface should remain wet to be effective against SARS-CoV-2 (COVID-19). This is important for shared transportation because it impacts operations and speed of application. Dwell time can range from 1-30 minutes.

 
2. Formulation Type: Solutions can come in both ready-to-use as well as dilutable offerings. This is important because there can be complications when mixing solutions, and it takes additional time and consideration to prepare in advance.
 
3. Active Ingredient: Active ingredients are critical and can have different levels of harshness and toxicity. Although some solutions work well in hospitals, they may not be the right solution for vehicle interiors.

 

Defend-X is a trusted, ready-to-use solution that's safe in vehicles and on common vehicle interiors such as leather and plastics.
How much product is used for one spray of Defend-X or Odor-X?
In a standard sized passenger car:
Typical application of Defend-X requires 1.5 oz.
Typical application of Odor-X requires 0.5 oz.
How long does it take to spray my car with disinfectant?
The spray takes seconds, but after application, there is a drying time between 2 to 5 minutes to activate Defend-X and Odor-X.
What dispensing equipment can I use if I want to spray both Odor-X and Defend-X?
If you want to be able to spray both Odor-X and Defend-X, our recommended solution is the SmartPod. The Hygienica HX Pro Plus backpack or Victory Innovations Cordless Electrostatic Sprayers are the preferred solution if you need something portable and only want to spray Defend-X.
Which dispensing equipment is right for me?
The Hygienica HX Pro Plus backpack is the recommended solution for fleets or large automotive dealerships where there is a plug-in easily accessible. The Victory Innovations Electrostatic Backpack Sprayer is recommended when a plug-in is not easily accessible and the Victory Innovations Cordless Handheld Electrostatic Sprayer is recommended when a plug-in is not easily accessible, but few vehicles are sprayed at a time or Defend-X refills are easily accessible. The Turtle Wax SmartPod is recommended if you want to spray both Defend-X and Odor-X.
What is the difference between the Hygienica and Victory Innovations backpack?
The Victory Innovations backpack is cordless and uses electrostatic technology.
SmartPod is a digitally controlled product dispensing system and is the most advanced mobile dispensing system available for dispensing an EPA-registered disinfecting and sanitizing chemistry. SmartPod has been designed specifically to apply Defend-X Disinfecting and Sanitizing Solution, and Odor-X Odor Eliminator products from Turtle Wax Pro.
Can I see SmartPod Online?

What advantages does the digital control provide on the SmartPod dispenser?
Digital control allows SmartPod to dispense products in a consistent way, application after application. Once a baseline is established for the amount of product required to treat a specific vehicle, room, or other items, a specific product application cycle can be set up for that object. Up to three pre-set application cycles can be programmed into the SmartPod digital control. The digital control system can be programmed to dispense an exact amount of product over a specific amount of time, to give control of the application consistency. Having this level control is crucial to ensure correct and effective application of the Defend-X Disinfecting and Sanitizing Solution.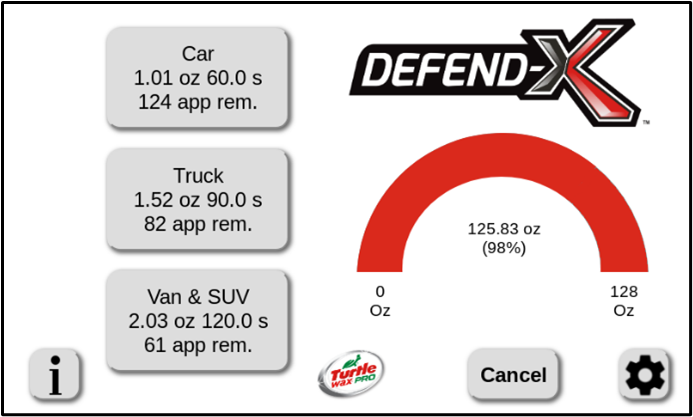 Is SmartPod simple to use?
Absolutely. SmartPod uses an intuitive touch-screen interface that directs the operator through the process. Color-coded hoses allow for quick identification of the correct application wand for the chosen product. SmartPod even includes on-board instructional tutorial videos to explain assembly and operation.
What are the dimensions of SmartPod?
SmartPod is a robust maneuverable dispensing system, with a design suited to a service center, detailing shop, warehouse, or even outdoor application (weather permitting).
Height: 46" (1168 mm)
Width: 29" (740 mm)
Depth: 28" (711 mm)
Weight: 100 lbs (45 kg)
What products can be used with the SmartPod dispenser?
Defend-X and Odor-X by Turtle Wax Pro in 1 gallon containers (128 oz.) are the only products approved and authorized to be used in the SmartPod dispenser at this time.
What spray technology does the SmartPod employ?
The spray wands are specially designed to dispense Defend-X in the right droplet size to be in compliance with the EPA claims. The combination of the spray wands and SmartPod's digital controls manage the right amount of chemistry per average vehicle size to meet the EPA claims for wetness and dwell or dry time. Ergonomically designed trigger wands allow for application into tight spaces without operator fatigue. An on-board air compressor provides clean / dry air to propel the products onto surfaces being treated.
Does SmartPod use Electrostatic application technology?
SmartPod does not use Electrostatic technology.
What are the power requirements for SmartPod?
SmartPod uses a standard 120V North American plug. SmartPod requires the use of a 3 prong grounded extension cord and receptacle. Amperage rating is 5.5 Amps.
Are there other utility requirements for SmartPod?
WiFi connectivity is required to ensure proper setup and application tracking. No external compressed air or water connection is required for SmartPod.
What is the purpose of the WiFi connection?
SmartPod connects to a secure cloud server to allow for remote monitoring of product levels, alerts, and dispensing statistics. This data is accessible by location and company managers to allow for product ordering, and application / performance tracking. All messages are time-stamped before being sent to the cloud to facilitate application tracking and reporting.
What happens if SmartPod loses its WiFi connection?
SmartPod will buffer data until a WiFi connection is available, at which point it will upload all data to the cloud.
Are different length application hoses available for SmartPod?
The standard hose length provided with SmartPod is 25'. Other hoses up to 50' in length are available for an additional fee.
What if I have an issue with SmartPod? How do I obtain technical support or Service?
Simply reach out:
1 (877) 857-3870
Our technical support team can arrange on-site service, or system exchange to ensure maximum reliability and uptime.
How much product can fit in the Hygienica HX Pro Plus Backpack?
The Hygienica HX Pro Plus backpack has a 10 liter (2.7 gallon) tank.
What does the Hygienica HX Pro Plus Backpack weigh?
The Hygienica HX Pro Plus backpack is approximately 9lbs when it's empty.
What are the power requirements for the Hygienica HX Pro Plus Backpack?
The Hygienica HX Pro Plus backpack uses a 110V plug.
How much product can fit in the Victory Innovations Electrostatic Backpack?
The Victory Innovations Cordless Electrostatic Backpack has an 8.5 liter (2.2 gallon) tank.
What does the Victory Innovations Electrostatic Backpack weigh?
The Victory Innovations Cordless Electrostatic Backpack Sprayer is approximately 29lbs when it is full.
What is the charge time and battery life of the Victory Innovation sprayers?
The Victory Innovations Cordless Electrostatic Backpack and Handheld Sprayers have a 90 minute charge time and 4 hour battery life.
How much product can fit in the Victory Innovations Handheld Electrostatic Sprayer?
The Victory Innovations Cordless Handheld Electrostatic Sprayer has a 33.8 oz tank.
What does the Victory Innovations Handheld Electrostatic Sprayer weigh?
The Victory Innovations Cordless Handheld Electrostatic Sprayer is approximately 5.9lbs when it is full.
What is the particle size of the sprayers?
The Victory Innovations Cordless Electrostatic Sprayers have 40, 80 and 110 micron settings. The Particle size for the Hygienica HX Pro Plus backpack is 40-60 microns. Defend-X works best between 40-85 microns. Smaller droplets won't get the surfaces wet enough to activate the chemistry and larger droplets can cause streaking or spotting. We do not recommend using the Electrostatic Sprayers on the 110 micron setting with Defend-X.
Why are cabin air filters included as part of a hygiene offering?
Our core mission at MoveClean is to provide Total Vehicle Hygiene. It's clear why that would include disinfectant designed for automobiles, however it may not be as obvious why we're expanding to cabin air filters. Cabin air filters are an important part of our vehicle's heating and cooling system, but they also help protect the air we breathe inside the vehicle. In fact, there is more contaminated air inside your vehicle than outside, making cabin air filters a particularly important part of Total Vehicle Hygiene.
Why is paying attention to cabin air filters important to me?
Replacing your cabin air filter is good for your vehicle, your safety and the health of you and your family, friends, or passengers. A dirty air filter forces your heating/cooling system to work harder, which wears out the motor more quickly. Cabin air filters also improve visibility by quickly clearing fog or frost from your windshield. From a health perspective, cabin air filters remove harmful pollutants and allergens from the air entering our vehicle. This is especially important if you or your passengers suffer from allergies, asthma, or other respiratory conditions. High quality cabin air filters will also prevent bacteria from circulating through the heating and cooling system. If your job requires you to drive with various passengers throughout the day, you can provide both yourself and your passengers peace of mind by advertising the use of an appropriate cabin air filter.
How does cabin air filter quality differ?
Not all cabin air filters are created equal. Air filter innovation has come a long way from placing fabric over the air intake valve to protect clothing from polluted air. Now, there are certain qualities you should look for and expect. Activated charcoal filters are most effective at removing external odors or gases. Particulate filters are more effective at blocking pollen, dust, and allergens. In the past you had to choose one of these filters over the other, but nowadays there are cabin air filters that combine layers of both activated charcoal and particulate. A third component that you should look for is an antimicrobial layer which prevents bacteria and mold growth on the filter. This is especially important so that you are not circulating bacteria and germs throughout the vehicle.
How do I know when I need to change my cabin air filter?
None of us want to keep track of another recurring maintenance schedule when it comes to our vehicles. The vehicle owner's manual provides a recommendation about how frequently you should replace your cabin air filter, but that just becomes another date to track. It's also hard to trust how frequently we need to change our cabin air filter because the timing can vary significantly based on our typical driving conditions. So here are some ways to tell for yourself when your cabin air filter needs to be replaced:


1. The air coming into your vehicle smells musty
2. A whistling sound is coming from the cabin air intake ducts
3. The heating or cooling system is louder than normal
4. The airflow is weaker than normal even when set to high
5. It takes longer than usual to clear fog or condensation from the windshield
6. The filter is covered in dirt and grime

 

Alternatively, you could give yourself a reminder to change your cabin air filter by setting up recurring annual or bi-annual deliveries (depending on the advice from your owner's manual). Set it and forget about it. When the cabin air filter shows up at your door, it's time to check how much grime is on the last one. If it still looks good, push out the date of your next delivery.
Do I need to pay someone to replace my cabin air filter?
The size and location of your cabin air filter is dependent on your vehicle make, model and year. The filter is typically located in the engine compartment near the base of your windshield, under the dash or behind the glove box. In most cases, it's surprisingly easy to replace the cabin air filter yourself, which not only saves valuable time and installation costs, but also allows you to buy a quality air filter of your choosing as opposed to the filter available in the shop at the time you arrive. The average installation time is 15 minutes and there are DIY videos and manuals for almost any vehicle online.